A few weeks ago an interesting thing happened that exemplifies how sharing of technology can connect people. Nate Halverson designed an experiment on how to heat treat the silver used in the ceramic, and took the data on a machine at Alfred Univeristy used to measure chemical reactions, called a TGA–DTA. By that evening on the same day, a new procedure for water filter production was implemented in Indonesia. Here's how it happened: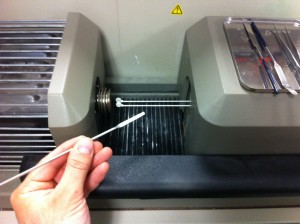 11:00 AM, Alfred NY. Nate Halverson completes an experiment on how to best apply silver to the filter.
4:00 PM, Alfred NY Nate sends the data to Nick Rozard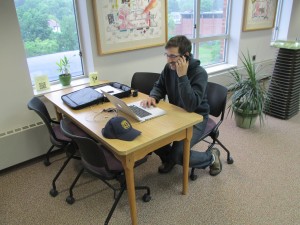 7:30 PM, Alfred NY and Yogyakarta Indonesia During a Skype meeting, with Rina Wijaya in Yogyakarta Indonesia, Nick sends the data and a recommendation on how to run the kiln.
20 minutes of discussion later, Yogyakarta Indonesia Rina has implemented a new firing procedure for the kiln.
The world is more peaceful with right sharing of technology. Rina will make great use of this information for the processing of the filters. The information allows her to make use of her local materials to provide drinking water for her community. When technology is shared between people, lasting bonds are created. Bonds that transcend violence and even war.
If you would also like the technical information discussed here, including the chart and recommended firing schedules, see the resource section of our webpage.